Register Your Team for 2008 RI Dragonboat Races Now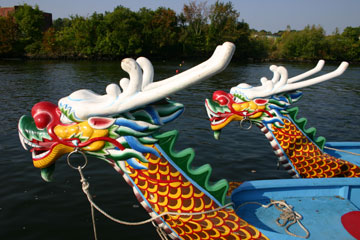 Blackstone Valley Tourism Council is accepting registrations for the Rhode Island Dragon Boat race to be held Saturday, September 6 in Pawtucket, RI from 9am to 5pm on the Pawtucket River, Pawtucket, RI.
The use of dragon boats for racing is believed to have originated in southern central China more than 2,500 years ago along the banks of the Yangtze River. Dragon boat racing as the basis for annual water rituals and festival celebrations has been practiced continuously since this period. In Pawtucket, the Dragon boat race is held as part of the Taiwan Day Festival celebrating the Chinese community in conjunction with the Pawtucket Arts Festival.
We supply the Dragon boats, paddles, drum, t-shirts, hats, practice time, pfds, special awards ceremony and the fun! You supply the paddle power. A great way to support teambuilding! Businesses and others are welcome to participate by forming a team consisting 22 or 23 participants that include 20 paddlers, 1 drummer, 1 steersperson and a flag catcher.
The race committee will again contract with 22Dragons of Montréal, Canada to provide timing and race management services. 22Dragons has extensive experience running dragon boat races, ranging from local events to major competitions. Winners in all three divisions will each receive a $1,000 prize.
For more information call 401-724-2200 or visit dragonboatri.com.